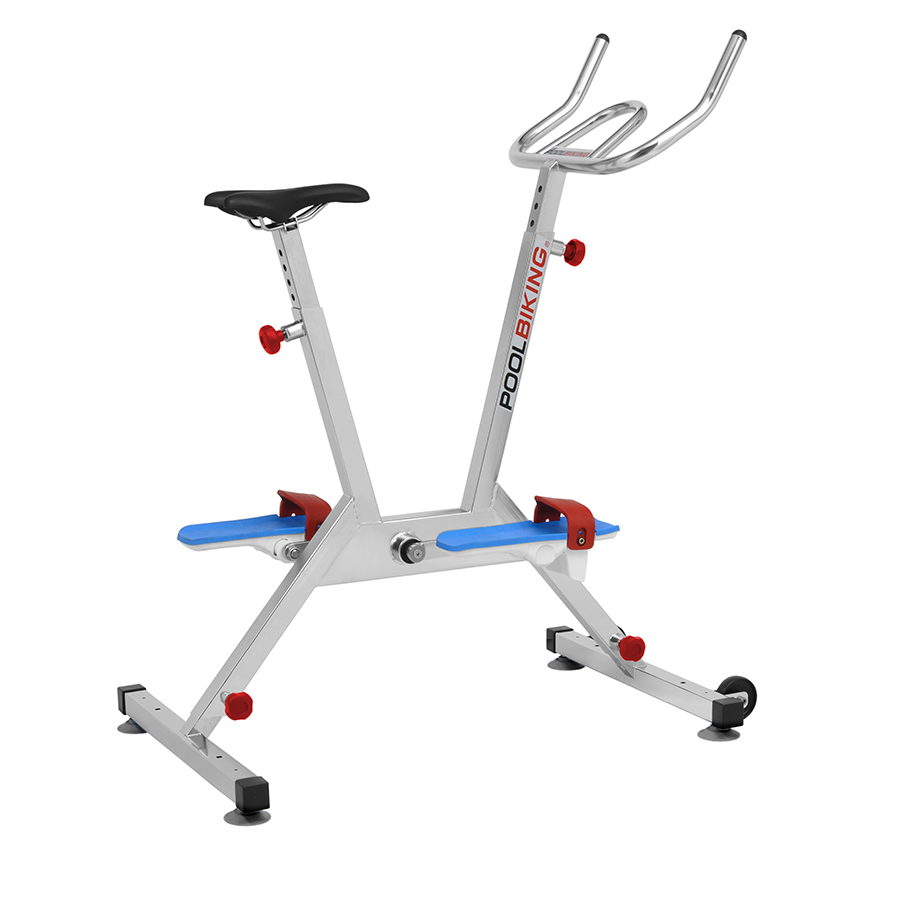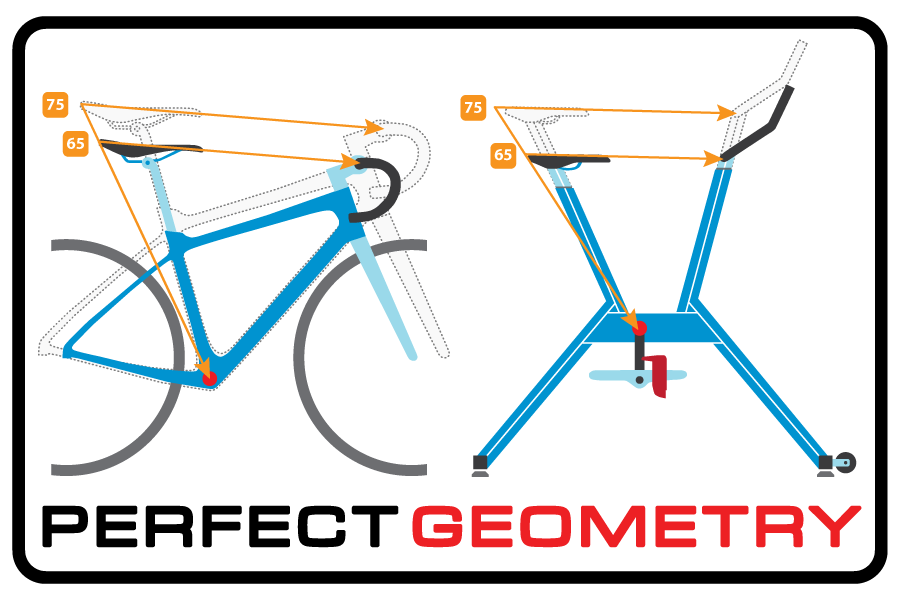 Machines carried out under the system PERFECT GEOMETRY get an optimal biomechanical regardless the height of the person. Its design is based on a map of movement 'points for 6 different heights of users: 1.50, 1.60, 1.70, 1.80, 1.90 and 2.00 meters, obtaining the perfect bike. The incline of the seat, handlebars and pedalier match up with the standard sizes in a conventional bike. In this way, not only eliminate we unnecessary regulation systems, but we avoid that the customer adjusts this fittings in a wrong way, causing an inadequate posture with risk of injures.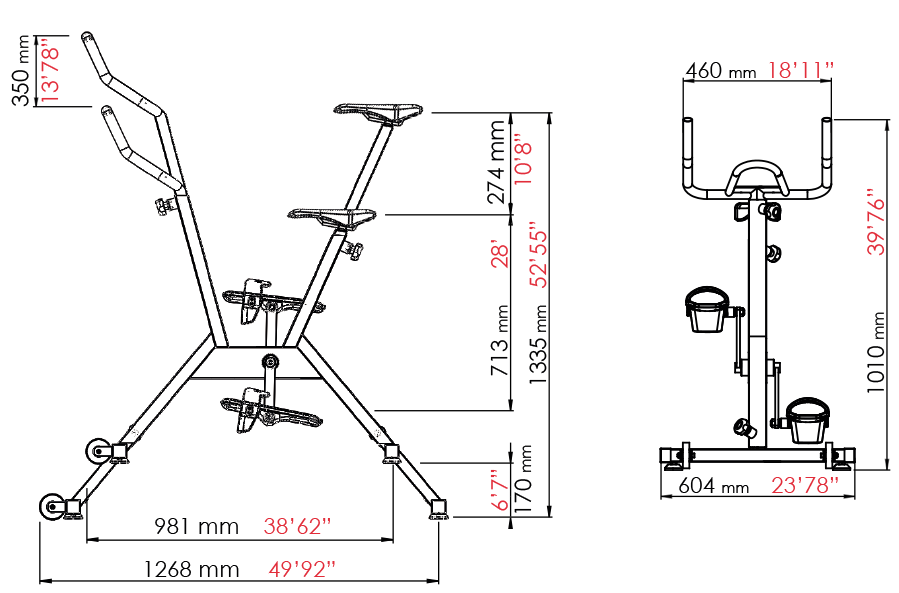 POOLBIKING ONE
Design, comfort and performance made in Barcelona. The new POOLBIKING ONE will seduce you with its sleek design, ease of use and the quality of its variable resistance without adjustment: FPR (Full Progressive Resistance). POOLBIKING has been chosen by many professionals from different sectors: fitness centers, rehabilitation centers, hotels and resorts, wellness centers, football clubs for professional athletes and for post-recovery or post-traumatic programs under the supervision of a specialized medic.
Wellness into the water!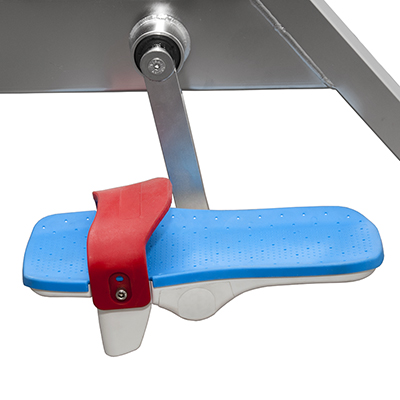 Adjustable pedal which adapts to any foot size, extremely comfortable.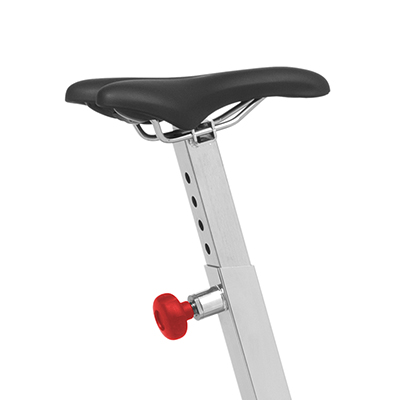 Easy adjustable saddle to improve confort.
ADVANTAGES
Experts say it's a high quality exercise. In just 30 minutes, we can achieve a high-performance workout, burn a significant amount of calories with a minimum joint impact. The continued resistance of the water reduces the session time compared with land-based activities. The pedalling is 'round' with the F.P.R., no dead point in the rotation! With a regular practice you will soon see the results.
ONE, it suits you well!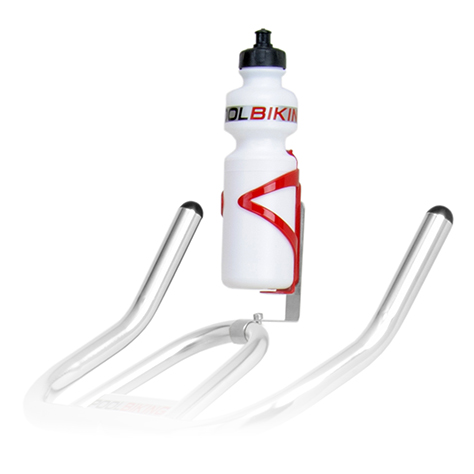 Handlebar holder and 500cl bottle.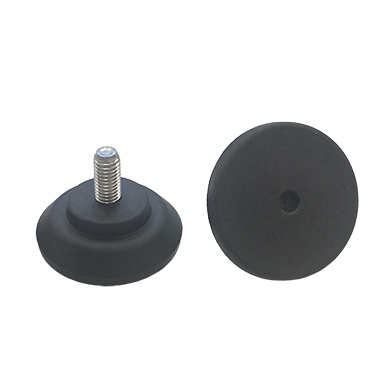 PTE ultra reinforced silenbloc support.
SUITABLE FOR
The hydrodynamic resistance developed by the FPR system of the POOLBIKING ONE has been carefully studied in order to provide a tool for high-quality cardiovascular training for the individual, the most demanding athletes, fitness professionals and rehabilitation. Thanks to its pedal system in resin and EVA, the pedal is used barefoot, the resistance increases gradually in accordance with the pedaling speed (F.P.R.). Everybody can achieve a quality training adapted to their capacity.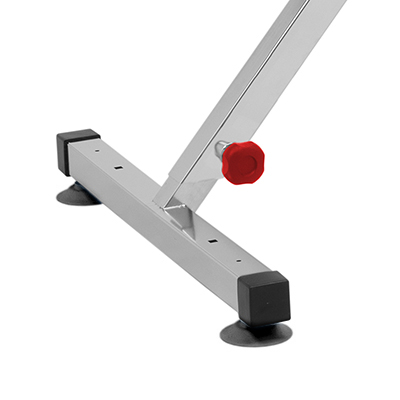 The legs have water evacuation channels to facilitate the exit of the inner water in less than 1.5 seconds.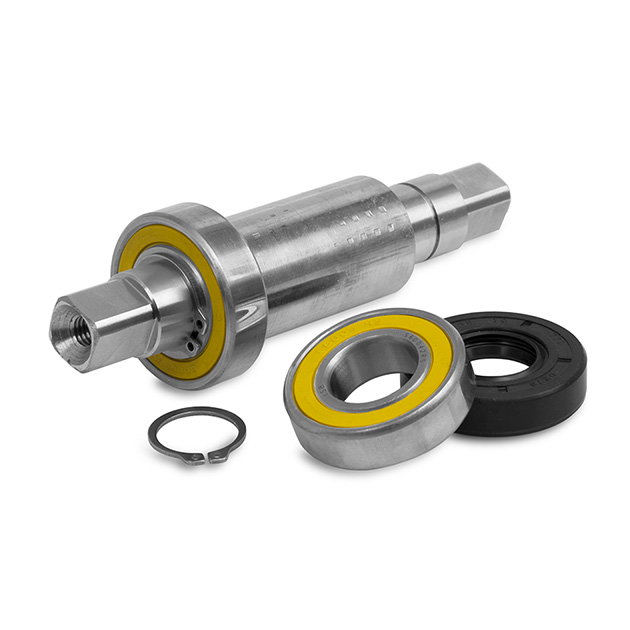 Large diameter stainless armored Gears, operation guaranteed for a lifetime.
TECHNICAL FEATURES
Manufactured with high quality stainless steel AISI316L featuring anti-rust protection in accordance with international standards. Pedals made of resin and EVA for barefoot use. Ergonomic design of the frame (multiple settings to match the user's height). Manual adjustment of the overall height to adapt to different depths of swimming pools: from 1.10m to 1.50m. For deeper pools, ask us. Anatomical aquatic Saddle (specially adapted for the overweight, the feminine and masculine physiognomy) High adhesion stability feet made of synthetic rubber for the protection of all types of pool floors. Made in Barcelona, CE certificated.